XAG/USD: general analysis
27
January
2017, 14:43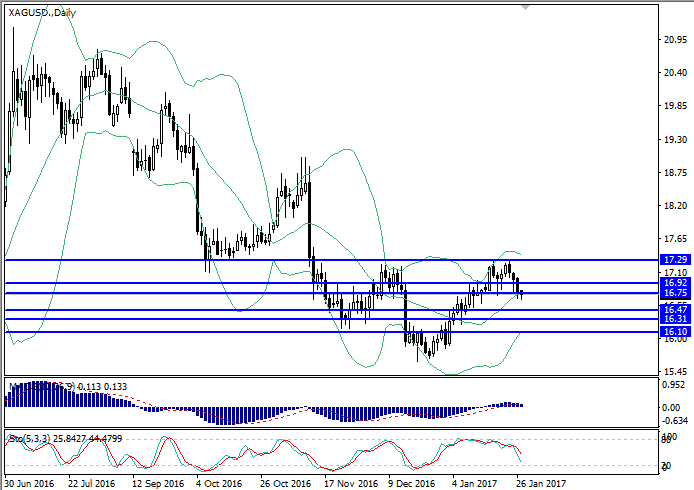 Scenario
Timeframe
Intraday
Recommendation
SELL
Entry Point
16.71
Take Profit
16.50, 16.30
Stop Loss
16.85
Key Levels
16.10, 16.31, 16.47, 16.75, 16.92, 17.29
Alternative scenario
Recommendation
BUY STOP
Entry Point
16.80
Take Profit
17.10
Stop Loss
16.65
Key Levels
16.10, 16.31, 16.47, 16.75, 16.92, 17.29
Current trend
Yesterday the price of silver continued falling amid strengthening in the US Dollar. The American currency was substantially supported by growth in the CB Leading Indicator from 0.1% to 0.5%, against forecasted 0.2%, and in the Markit Services PMI from 54.4 to 55.1 points. At the same time, data on Initial Jobless Claims came out worse than expectations but the negative effect was smoothed by the fact that the number of claims does not exceed 300 thousands for 99 weeks in a row, for the first time since 1970. In addition, New Home Sales in December fell to a 10-year low, which is an expected market reaction to increase in interest rates.
Today attention needs to be paid to data on the Gross Domestic Product Price Index in the US and to the meeting between UK Prime Minister Teresa May and US President Donald Trump. Both events are expected to have a positive impact on the Dollar and increase pressure on metals.
Support and resistance
On the daily chart, the instrument broke down the support level at 16.75. Bollinger Bands is trying to turn down while the price range is narrowing, suggesting a possibility of a trend change. MACD is near the zero line. Stochastic is about to enter the oversold zone.
The indicators recommend waiting for clearer trading signals.
Support levels: 16.47, 16.31, 16.10.
Resistance levels: 16.75, 16.92, 17.29.
Trading tips
Short positions can be opened from current prices with targets at 16.50, 16.30 and stop-loss at 16.85. Validity – 1-2 days.
Long positions can be opened from the level of 16.80 with the target at 17.10 and stop-loss at 16.65. Validity – 1-2 days.