E. I. du Pont de Nemours and Company: analytical review
01
February
2017, 14:40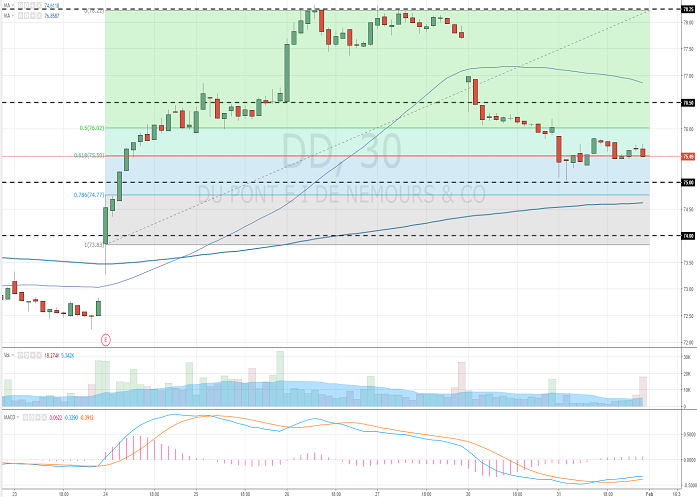 Scenario
Timeframe
Intraday
Recommendation
BUY STOP
Entry Point
76.10
Take Profit
77.00, 78.00, 78.50
Stop Loss
75.00
Key Levels
74.00, 75.00, 76.50, 78.25
Fundamental analysis
Industry: agricultural chemicals
On January, 24 the DuPont company published the 4 quarter and 12 months of 2016 report, exceeding the analysts' expectations. The ETA index has grown almost twice to $ 0.51 against the corresponding period of the previous year, exceeding the expectations of $0.42. In 2016 the ETA index has grown by 21% to $3.35. However the company lowered the 2017 expectations due to the merging costs.
The company is waiting for the merge with the Dow in the middle of 2017. After the merge the newly established DowDuPoint will split up to 3 companies in 18 months.
The strong financial report and positive news about the merge made the P/E index of the DuPont grow against the competitors in the chemical industry.
Key levels
Support levels: 75.00, 74.00.
Resistance levels: 76.50, 78.25.
Trading scenario
Last week the buyers prevailed. The price has met the key resistance level of 78.25. Yesterday the price reached the level of 61.8% (75.50) of the correction zone. The MACD began to grow, reflecting the development of the upward trend. The growth is expected Find the entering points and open long positions.
If the price is set above the level of 76.00, buy the #DD stocks. Stop loss is at 75.00. Fix the potential profit partially at the levels of 77.00, 78.00 and 78.50.